Class Act Dinner Theatre also operates a full service catering operation. From simple cheese and cracker plates to full course sit down dinners for hundreds. On site we can accomodate groups from 20 to 220.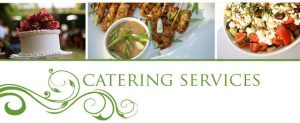 Top 10 Most Frequently Asked Questions
1 : Is Class Act Dinner Theatre a smoke-free establishment?
A : Yes; but we have a covered area outside, with benches and ashtrays.
2 : Is the facility wheelchair accessible?
A : Yes. From the moment you enter from our car park, everything – the lobby, ticket office, washrooms, buffet area and most of the Theatre is on ONE level. However please advise us of any special needs when booking.
3 : If a party of just two people wish to attend, will they have to share a larger table with complete strangers?
A : No. Our seating arrangements are suited to the size of the party, thus a party of two will have their own table. What we like to call "Intimate Seating"
4 : Do you cater for special dietary needs?
A : Yes and all of our buffets offer a nice selection of Vegetarian Dishes. Just ensure that when making your reservation, you mention your special requirements – We will do our best to satisfy your needs!
5 : Will I move into another area after dinner in order to see the play?
A : No. You remain at your table. The dishes are cleared, you replenish your drink, turn your chair to the best position, sit back and enjoy the show.
6 : Does the bar remain open during the play?
A : No. But it does open during the intermissions, and with special arrangements at the end of the play.
7 : Do you present any other kinds of plays besides Comedies?
A : We feel there are enough problems in today's world without intruding on your leisure time with heavy drama. People love to laugh, so we concentrate on comedies. We did, however, present "Deathtrap" in the summer of 2006, an incredible Thriller/Comedy and the longest running show on Broadway.
8 : Where do you get your actors?
A : For the most part, our actors, and directors, are the very best from the several Community Theatres here in Durham Region, together with some from Toronto, but almost every show, we introduce talented newcomers.
9 : How can I ensure that I get a good seat?
A : There are NO bad seats. Our small space offers four levels for excellent viewing; however, our table seating allocation is based the date of your reservation, thus the earlier you reserve, the better your choice of seating.
10 : If I am seated at the back of the hall, will I be able to see and hear?
A : The furthest table from the stage is only 49 feet, we have four levels and the rear most 20-foot section of the theatre is raised two feet, so everyone has a clear view of the stage.